Lonnie Jones Schorer
Author of: Kids to Space
A native of Connecticut, Lonnie Jones Schorer earned a BA in Russian from Connecticut College in New London and a Masters of Architecture degree from Virginia Polytechnic Institute and State University in Blacksburg, Virginia. She resides in Virginia where she and her husband David find endless recreation restoring a Victorian home.

Lonnie spent more than 20 years living overseas in Thailand, Turkey, Italy, Norway, and the former USSR while supporting her husband's State Department career. She was professionally engaged in UNESCO World Heritage programs, as well as land planning, residential, commercial, and architectural preservation projects. She also developed educational opportunities for children and young adults. The daily challenges of raising a son and two daughters in different languages, cultures and often unsettled political climates fostered a belief in learning and assimilating by venturing forth for daily explorations and small discoveries.
As a member of the Explorers Club, Women in Aerospace and The International Group for Historic Aircraft Recovery, Lonnie's fascination with exploration and the freedom of flight led her to look skyward, first as a skydiver and then as a private pilot and space advocate.

Believing in the pursuit of visionary goals and new frontiers, as head of design for the new-concept 43,000-ton shipboard community at sea, the World of ResidenSea , and currently as director of Global Space Travelers, a subsidiary of ShareSpace, with Dr. Buzz Aldrin, Lonnie believes that what was accomplished at sea can also be achieved in space. She believes that the future of space travel, with rocket ship shuttles ferrying people and supplies and docking at destination space ports, could be successfully modeled on the cruise ship industry.
Two grandsons got her thinking about "to infinity and beyond," and that led to the Kids to Space project, with its goal of inspiring kids to think about tomorrow and their future in space.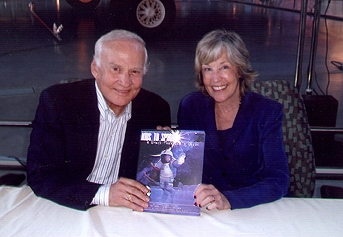 To contact CG Publishing email
here
Telephone: 905 637 5737 Fax: 905 637 2631