Alan Lawrie
Author of: Saturn
Author of: Saturn 1/1B
Alan Lawrie has a Batchelor of Science degree in Mechanical Engineering and a Post Graduate diploma in Astronomy and Astronautics.

He is a satellite propulsion engineer and has worked in the space industry for over 24 years. During this time he has worked with space propulsion companies around the world and regularly travels to the United States where he manages the procurement of propulsion engines, tanks and valves for satellite systems. In over 70 professional visits to the US he has built up a network of propulsion contacts.

He was written several space propulsion professional papers as well as a number of space related articles in the popular space press. The most recent article appeared in the June 2004 Spaceflight magazine and focussed on an aspect of the Saturn V testing.
He is a member of the British Interplanetary Society and is making a presentation to the Society members on the Saturn V in April 2005.

Extensive research for this book has taken over 2 years and included visits to all the key facilities in the development of the Saturn V rocket including the Marshall Space Flight Center, Stennis Space Center, Michoud Assembly Facility, Kennedy Space Center, Johnson Space Center, Rocketdyne, the Saturn library at the University of Alabama at Huntsville and the Saturn records depository at the National Archives in Atlanta.

Almost all of the contents of the book will be appearing in published form for the first time ever. Some of the data has been obtained by requests through the Freedom of Information Act. Many of the photographs have never been published before as the author located the original negatives in an archive vault.

Alan Lawrie lives in England.

Alan Lawrie with Apollo 12 Astronaut Dick Gordon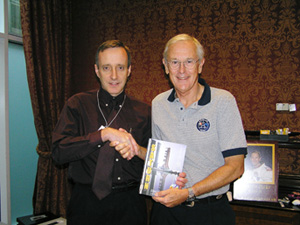 Alan with Apollo 16 Astronaut Charlie Duke
To contact CG Publishing email
here
Telephone: 905 637 5737 Fax: 905 637 2631
©Copyright 2004 CGPUBLISHING in association with Precognition Studios®